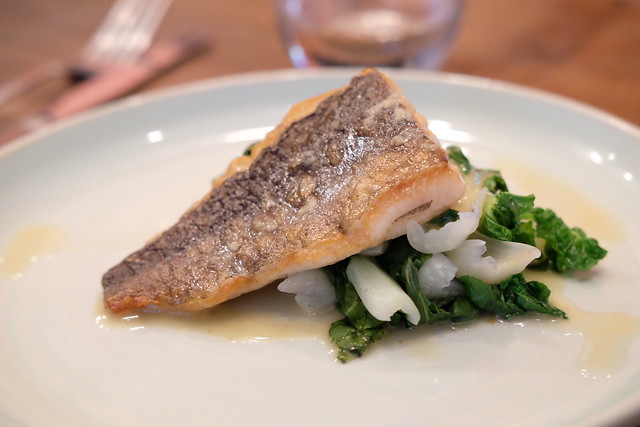 Eating a filet of fish without skin is like eating a skinless lechon or porchetta. It's a travesty to miss out on the crispy skin and one we simply refuse to do. But it's also a travesty to have the skin break and stick when cooking. Which is why we love to prepare our fish with a simple pan sear. Pan searing is one of the best cooking methods for fish–you crispy skin on one side and tender flaky meat on the other and it only takes minutes to do. Yet how many times have you chosen a perfect filet of fish only to have the fish stick on the pan and end up a broken mess? Sadly it's happened to us before and it wasn't pretty. The skin on filet was mangled, half sticking to the pan and half dangling from the broken filet. While we could have avoid this with using a nonstick pan, you just don't get the nice crispy browned skin that we both love. Plus, we don't want to use such high heat on nonstick pans.
While there's an entire chemistry lesson on why food sticks to pans, you read our blog for recipes so we're going share a few key tips we rely on to avoid fish (or any protein) from sticking.
First, key factor is temperature. Make sure your pan (either a cast iron or stainless steel heavy bottom pan) is adequately heated. This is a great video and explanation on how to make sure properly heat your pan.
Second, make sure your protein is nice and dry and at room temperature for at least 10 minutes—excess moisture and cold temperature will drop the temperature in the pan and inhibit browning.
Finally, don't fidget with the food–leave it alone to develop a nice crispy crust. Even if a bit of sticking occurs initially you can lower the heat and it will release on its own.
Now all the above can be a daunting task if you're new and have an expensive filet of sea bass before you. But luckily for us home cooks, there are people looking out for us designing pan that can adequately sear a fish without the sticking issue. We've had the pleasure to try the All-Clad d3 Armor fish pan over the last several weeks to test how well it would handle and we came away very impressed. Like everything in the All-Clad line, the d3 Armor pan feels very sturdy and is extremely well built right here in the USA. It also looks beautiful on our stove-top, a big plus in our book. The shape of the pan is also great–the oblong oval shape allows for large filet or (steaks for that matter) and it's low flared sides make it easy handing and flipping. The d3 Armor has a triple ply construction like the regular All-Clad and is for great browning and searing but what sets it apart is it's unique riveted design that makes for a natural nonstick surface. We have a regular All-Clad frying pan to compare and the release on the d3 is was even more effortless. It was remarkable how easy how proteins just slipped right off without even a bit of stickiness. You'll see in our video below flipping a delicate filet of black cod was a breeze!
While not marketed as a true nonstick pan, it's essentially performing as one for us. While we probably won't make scrambled eggs with it, we won't hesitate to make it our go to pan for searing and browning. We tested this on several recipes but our favorite is Nobu inspired black cod with miso butter pan sauce. The original recipe calls for making a miso marinade overnight but our version is so simple yet contains the essential flavors of the dish but can be made at the spur of the moment! Here's a quick 1 minute video of the process using the d3 Armor fish pan:
We're fortunate to try the All-Clad d3 Armor fish pan in our kitchen but we don't want to keep a good thing to ourselves. All-Clad has generously agreed to give one of our readers a chance to win the All-Clad d3 fish pan retailing for $199.95! Entering is simple. We're going to make this an instagram give away.
Just go to our instagram of this recipe, like the photo and follow us and All-Clad and tag 3 friends to enter. If you re-gram the post on your feed and tag us that's another entry. We'll randomly chose a winner on 10/17/2016.
Equipment
All-Clad d3 Armor fish pan
Ingredients
2

filet of white fish such as black cod

1

tbs

cooking oil

1

ts

minced ginger

1/3

cup

chicken stock or white wine

1

tbs

butter

1/2

tbs

white miso

salt and pepper
Instructions
Preheat stainless steel pan on medium. Season fish filet with salt and pepper. To check if your pan is hot enough, add a teaspoon of water. If it sizzles and steams, then it's not hot enough. Continue to preheat until a teaspoon of hot water remains in a small ball and floats over the pan like a "mercury ball." At this point, it's ready. Add oil and filets skin side down. Do not touch the filet until they are cooked about 2/3rd through. Carefully flip and finish the cooking for another minute and remove from heat and set aside.

Remove the pan from the heat. Turn down to medium low and add the ginger and saute until fragrant. Deglaze the pan with stock or wine. Stir vigariously with wooden spoon to scrap up any sticky bits of food on bottom of pan. Continue to heat until liquid has reduced by about 50%. Add the butter and miso and stir until completely dissolved and sauce has emulsified and thickened and remove from heat.

Spoon pan sauce over the pan seared fish and serve with favorite vegetable side.
Nutrition
Sodium:
624
mg
|
Calcium:
59
mg
|
Vitamin C:
1
mg
|
Vitamin A:
35
IU
|
Sugar:
3
g
|
Fiber:
1
g
|
Potassium:
1157
mg
|
Cholesterol:
174
mg
|
Calories:
507
kcal
|
Trans Fat:
1
g
|
Saturated Fat:
4
g
|
Fat:
22
g
|
Protein:
72
g
|
Carbohydrates:
6
g
|
Iron:
2
mg